New Catalog Sneak Peek Event coming to your computer
and delivered to your door!
I am unable to do a live sneak peek this year, so this is the next best thing!

It's time to get excited about the NEW Stampin' Up! Catalog!! There are tons of awesome new stamps, plus we have a color re-vamp!! Old colors going away, new colors coming in, new ink pad style, all very exciting!!
Three sets we are using in main class:


Love What You Do (get your set now - check it out here!)


Lilypad Lake









Abstract Expressions







Here is the set we are using in the bonus class:
Varied Vases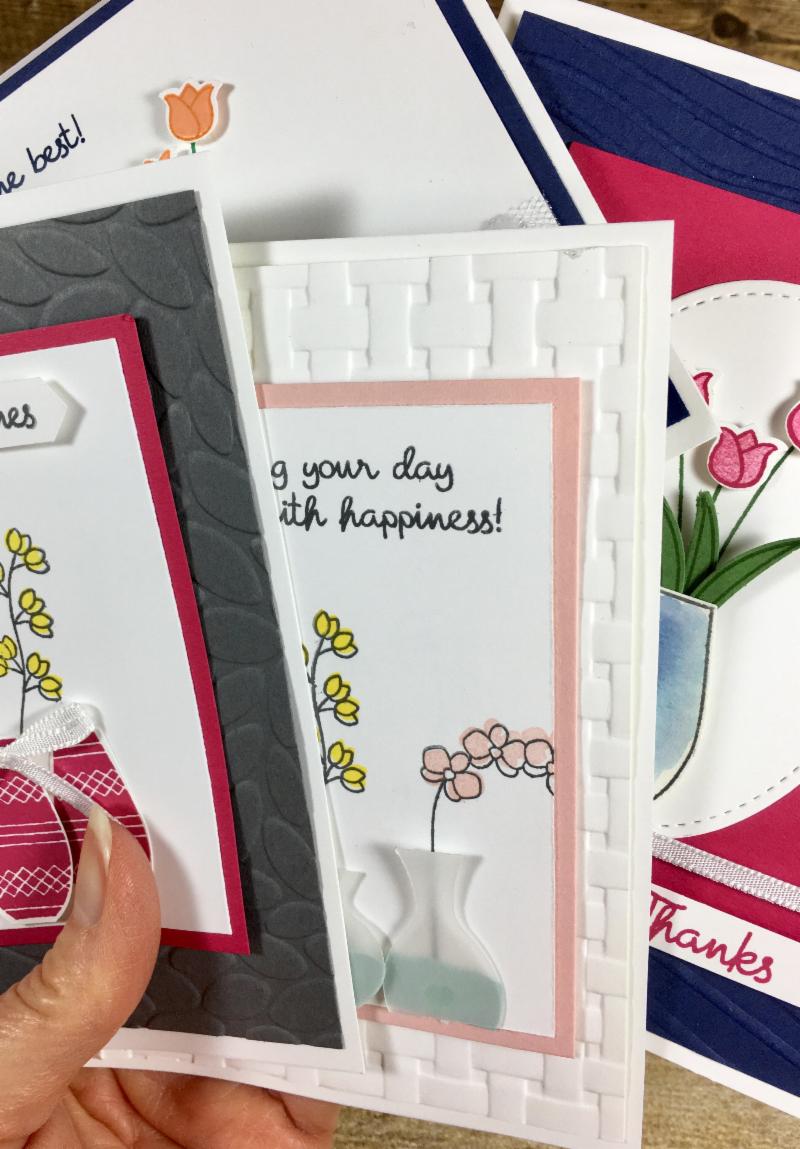 Demonstrators can order the stamps in May!

If you are a customer, you can order them June 1 (except Love What You Do is available in May). That is less than a week after your kit will be sent out! And, bonus, if you choose to order online you will be able to use my May and/or June host code special!
Who:
You! And, you can get a friend to join in and you get together to stamp and assemble (and maybe share stamps and ink!)
What:
Projects:

Your class fee includes 12 projects using Love What You Do, Lilypad Lake, and Abstract Expressions and the new in color ink pads (plus some current colors that you probably already own). We'll make four cards from each set. I'll do all the cutting, punching, embossing, and die cutting possible for you. You will simply stamp and assemble at your convenience!
Stamping Demonstrations! This online class will feature four video demonstrations using new product by four different demonstrators! These are DIFFERENT demonstrations (bonus!!) than what you are making!
Prize Patrol:

I will hold some random drawings from all participants and mail your prizes to you with the kit!
Product:

You will receive some supplies with your kit that you will get to keep the leftovers of! Approximately $20 worth of product!
Convenience:

You can access the information ANYWHERE - you don't have to live near me!
When:
The tutorials and demonstration videos will be sent out on May 26. The kit will be mailed by May 26 as well.
Where:
The comfort of your own home!
How:
Reminder - you will complete the projects on your own at home using your own stamps and inks.
Bonus add on:
You can add on one more class of four cards using Varied Vases for only $10!! *Add on only available with class purchase.
Class fees:
$25 tutorials only for all (includes bonus class)
Deadline:
Must RSVP and payment due by MAY 15, 2018.
Contact me to RSVP today! jennifer@jennifercotton.com